If you would like to submit a testimonial for Sandra Swanson, please visit the "contact us" page and click the dropdown box to "submit a testimonial".
"I was gifted a 60 minute massage for gradutation with Sandy. Being a nurse, I had plenty of aches and pains that I desired her to take away and she did so. Also playing sports, I have plenty of bruises and a sore body to contend with. Sandy listened and treated me accordingly. I will definitely be returning." Adina F. - Rochester
"I have a bad spot on my back that numerous people have been unable to help me with. Within 5 minutes, Sandy found the spot. I have never felt better." Rob G. - Rochester.
"This was the first time in a long time that I was able to go to work with no pain. Thank you Sandy." Katie D. - Rochester
"I had a 30 minute massage and it was like I went to heaven and back. Thank you Sandy." Tim S. - Brighton
"Sandy knew my body like a roadmap. She is a very good "physical" massage therapist and I wish I could have her in my physical therapist's office for my shoulder rehab." Deb A. - Ontario

"I have been seeing Sandra for several months. I have found her to be professional and thorough yet accommodating as well. I felt the price to be reasonable." Mike M. - Macedon

"Sandra treated me for several sessions. She did a great job! Sandra is very professional and will work hard to calm your pain." Deborah S. - Irondequoit
"I almost rescheduled my massage appt because I was so sore from working in the garden. I am SO glad I didn\'t. Sandy did an amazing job really working the kinks out. I felt better as soon as I left. I like deep tissue and for a small woman, I was amazed at how strong Sandy is. I would highly recommend her as a massage therapist!!" Sue R. - Hilton
"After our session yesterday, I slept better last night than I have in a LONG time!" Patricia U. - Rochester
"After seeing you Sandy, Dr Sam was able to crack both sides of my neck. First time he was able to do that. He was able to get movement in my mid back and adjust my toes! Because I had a massage with you, I was able to enjoy my time in Hurst, TX. I cooked, cleaned, walked my granddog and was full of energy! Thanks so very much for taking care of me!" - Marcia W. - Rochester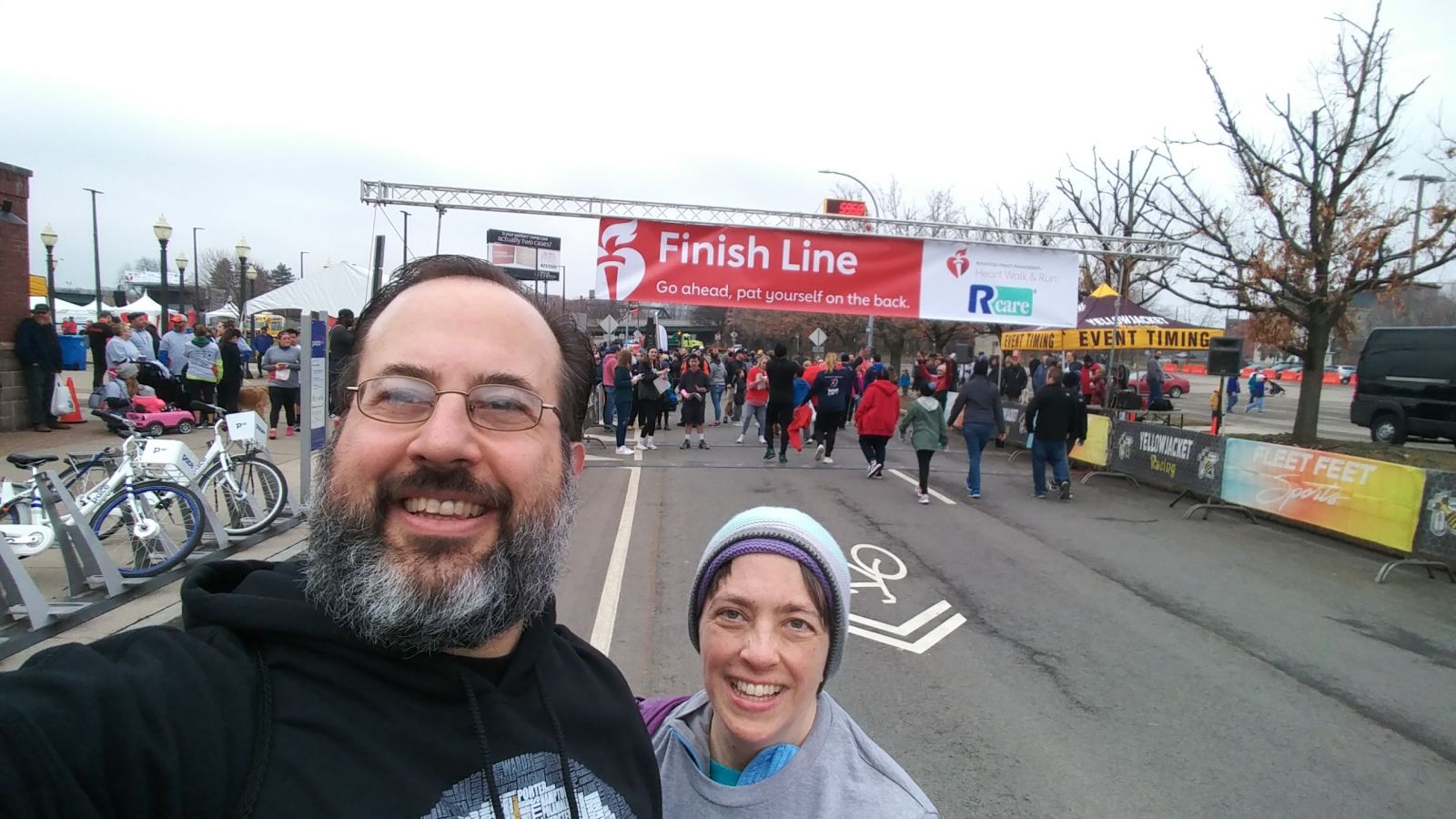 Sandy and Mike at the finish line of the Heart Walk 2019